Are We Taking Our Drinking Water for Granted?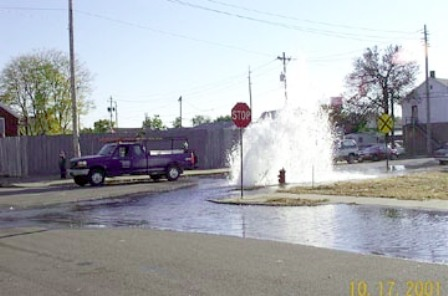 With all the commotion going on in the east coast after Hurricane Sandy's destruction, one item that continues to be discussed: drinking water.  The mayor of New York confidently tweeted that the water was safe to drink. 
The media never took attention to the drinking water situation though, and probably should have.  While contamination wasn't an issue this time, several factors could lead to a devastating problem at any moment.
The drinking water infrastructure of New York is at its worst.  Most of the systems used on a regular basis predate the Civil War.  Over 10% of drinking water is lost through leaky pipes.  Major water main breaks happen somewhere throughout the United States every two minutes.
There are plenty of reasons for the failure of our water systems.  The first is due to climate change which means storms are more intense.  Second would be contaminants in our water that never used to be there.  Pharmaceutical products, methane from fracking, pesticides, and other chemicals end up in our water systems.  Lastly, age has taken its toll on our water systems.  It is hard for systems to last that long these days.
The EPA has estimated that it will take $335 million to maintain the already existing drinking water system in New York, and to upgrade the system would be millions more.  The funds are never allocated to upgrade because the issue is never made apparent to people until a burst happens or faucets run dry.
While a new or upgraded drinking water system will take years and millions of dollars to fix, a good solution for homeowners and businesses is to get a commercial grade carbon filtration system.  This could be either an under the sink system or a point of use system.  When selecting the right system for you, make sure to select a system that is certified to remove Chlorine, Taste, Odor, and VOCs.
To Learn More: http://youtu.be/A7hNXX_HYkc
---
posted in Drinking Water Filtration Systems, Drinking Water Quality, Hydration and Your Health
Categories
Archives
Share